Today is the Anniversary of the "D Day" landings in 1945. - And watching what is going on these days in England - I think this pic sums it up.
======================================>
While World and Country Politics seem to fill every moment on both TV and Social media - thank goodness we have motorcycle sport to relieve the tension. -
Here is a great shot  of Mick Andrews, still going strong  and loving his Vintage Trials bikes ( In fact I've never seen a pic of him on a new one - except for the TYZ Yam of course - and that is now classed as pretty old)  - In this shot he is standing by his very special James 250, with his favorite Ossa in the foreground.

============================================>
Something that I would like to mention - As an old guy, I do things the old fashioned way - so if anybody needs to contact me, please use either my email - daverhodes@shaw.ca - or my land line (250) 545-6139 - Yes I have a cell phone, but rarely use it, so it's no good leaving me text messages.
============================================>
The Latest from the World of Moto GP>
It's official: Jorge Lorenzo is to join Repsol Honda in 2019, with the five-time World Champion having signed up for two seasons to partner reigning World Champion Marc Marquez at HRC. The announcement comes in the wake of Lorenzo's first win for Ducati, taken at Mugello, when the Mallorcan became only the sixth man in the MotoGP™ era to win races on more than one bike, following 44 wins for Yamaha.
The statistics of the superstar lineup of Marquez and Lorenzo at Repsol Honda make for incredible reading: the two men share a total of 11 Championships, 130 victories and 255 podiums between them - many of which have been fought against each other. The two are also the only riders to have been crowned MotoGP™ World Champion since 2011 – Lorenzo in 2012 and 2015, adding to his first premier class crown taken in 2010, and Marquez in 2013, 2014, 2016 and 2017.
============================================>
The TT races in the Isle of Man continue to thrill spectators, with lap records being broken it seems every day - although the riders start at one minute intervals - they often see close action around the 37.7 Mountain Circuit.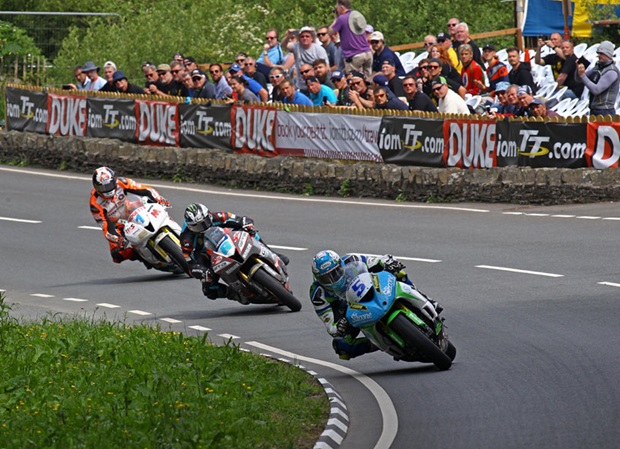 ===========================================>