In 1940 - The RAF were outnumbered 10-1 by the German Luftwaffe - but armed with the Super-marine Spitifire  - they managed to beat them - "Lest we forget"
======================================>
Well !  here we are   at another Thanksgiving long weekend and the weather looks to be perfect for a ride in the woods !! Problem is who do you call ? especially when you are "Over the Hill" and cant do any tough rides. ! - As it's a long weekend - lots of folk  have family plans, so I'm really not sure what we will do - Maybe just sit out on the back deck & drink some beer ?? - But the thought of one last ride at Summerland is sort of  bugging me  !!!! - Watch this space —–>
=========================================>
This is what is left of Jorge Lorenzo's Ducati after his big practice crash in Thailand Thursday - it may have been caused by a brake problem, as the bike suddenly went sideways - he got thrown through the air and landed heavily - re-injuring his foot - He has however been cleared to race on Sunday.
For sale - one slightly used Ducati !!
=====================================>
With winter already rearing it's ugly head in Alberta, and up on the mountains - we are starting to receive orders for the Opti snowmobile oil - we sell a lot of this to Tour Operators, who buy it in 45 gal drums. We have one customer who has a fleet of around 60 sleds. He has been using Opti for at least 12 years and never had an engine failure.    We have been Distributing Opti Oil Products since 1987. ( End of commercial)
======================================>
Yesterday, I worked on the two demo bikes that I have left - A 2018 Beta Evo 200, and a 2018 TRS 300 - neither have seen much use, but I changed the oil and checked them over  - We use Opti 5w30 in the TRS tranny, and Opti 10w30 in the Beta. - both of which are non-synthetic. -(We use Synthetic  Opti 2 mix in all our bikes at 100-1)  These are now for sale at a very good price, in immaculate condition. - Please call if you want to know more details.
======================================>
I came across this about Mick Andrews - We don't hear a lot about Mick these days, but he is still riding and spends a lot of time in Spain with his lovely wife Jill.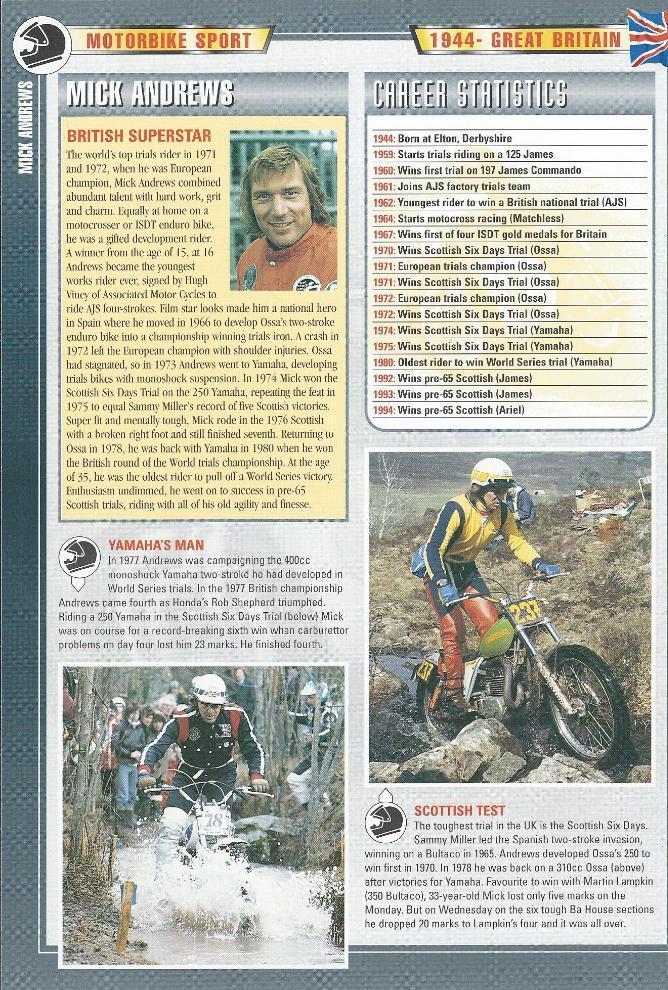 =====================================>
Another bit of Trivia - Bernie Schreiber seems to be getting more involved in the European Classic Trials scene - and posted this . He remains the only American World Trials Champion.  ( He still looks very fit)
=====================================>
This is your video for today - Kenny Roberts on the TZ 750 Flat-Tracker -> video  -
When I was with Yamaha Canada - Bob Work built one of these for Stevie Baker & It was  in the race shop at Richmond one day when I was there - There was nobody about, so I sat on it - it felt amazing  - but just then - the door opened and the Vice President a guy by the name of Glen Smith, poked his head in ( He was looking for Bo) - His comment to me was "Don't get any ideas Rhodes"  - This was because as a Rep - I was not supposed to race - just ride Trials - Of course they found out later about the Cross Country stuff, and I became involved with the IT program.
=======================================>