I guess you caption this shot "Who is going first?"

======================================>
Another "Flash-back" to the Vancouver demo 4 years ago - this is Tanner Nordin - check out the rear tire! All the pics I took that day, were with my small Canon G12 - which I only normally use when I'm out riding as it is easier to fit inside my jacket.

=======================================>
Time to get the shovel out !!! Roger Boothroyd sent me this old pic from long ago.

While winter drags on for us - it's nice to look ahead to Spring riding & I'm sure anybody with an entry to the Scottish is getting excited.

======================================>
The winter months are always a good time to get your bike serviced, ready for the year - stuff like greasing or replacing linkage bearings should be high on the list, also wheel bearings - it doesn't take long on most bikes, - a time to  check the brake pads as well - take out the wire clip that holds the pads and put a dab of grease on it to stop the squealing. ( make sure you don't get any on the disc)  - Don't forget that most preseason   maintenance can save you money, and if you need parts, now is the time to order - we have most stuff in stock - including spark arrestors ( required in BC).
If in doubt about anything a phone call to us or other TRIALS dealers - can be the difference between getting things right or wrong.
======================================>
The Canadian Motorcycle Hall of Fame have just updated their web pages with photos of all the Inductees from 2018 and previous years -  I took a moment to check it out and found a lot of interesting stuff from the past, with many old friends and people that I came to know over the years. - You can check it out by googling - Canadian Motorcycle Hall of Fame.  Here is the link >>>Canadian Motorcycle Hall of Fame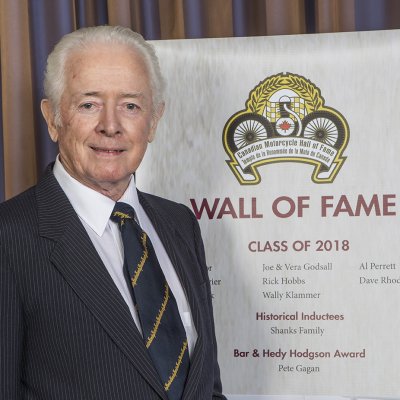 =======================================.>