This is a pic showing Taff trying to warm his hands back in 2005 up on Joss, when we ran into snow. - We made it to the lookout, but had to hike up the last bit from the top. Other riders in the pic are Mark and a guy I can't recall his name - neither of these ride anymore, but it was Mark that first showed me the route up the Mountain in 2003. He stopped by my place in 2003 and looked at the Trials bikes I had ( we sold Beta,Gas Gas & Sherco at that time)  He decided on a used Gasser we had, but after I asked him what he wanted to ride ie: trail ride or Competition, - he told me about this Mountain with an old Pack Horse trail leading up to a  Fire lookout at 8,000 feet.- built in 1920 - he had tried getting up there on an Enduro bike, but it was so rugged  - that he figured a light Trials bike would be the way to go.  - I made the comment - OK I will sell you the Gasser, as long as you take me with you on the next trip.  -As they say, the rest is History, and I did that ride a total of 8 times. ( It's now been closed to Motorized Vehicles) I was 63 first time up - 75 the last time.

======================================>
In Industry News - I see that Norton just went into receivership (again) - We heard that a few of the top snowmobile manufacturers have drastically cut production, because of too much unsold inventory.  ( A sign of the times)
======================================>
The Annual Talmag Vintage Trial is always well attended, but the sections this year proved to be just a bit too easy, with over 20 riders going clean for the day - However, I'm sure everybody had fun, and Kudus to the guys who still ride these big heavy 4 Strokes.
Lots of viewpoints on this event and others like it - here is one >>
Gavin Shaw
Every year there's people saying it's too easy and others saying it's too hard. This year's clean sheets have probably got more to do with all the trick bikes with youngsters riding them like moderns. Since when where Mikuni carbs allowed? When did a Suzuki framed B40 become pre65?
The original idea was for the old gits to have a wobble around on their old bangers in sections appropriate to that time.
Either we all accept that it's no longer a pre 65 event (same as the Scottish) but an event for highly developed British engined machines with no eligibility criteria OR we introduce strict criteria and age limits with the probability that in a short period of time the event will almost certainly die.
We can't have it all ways!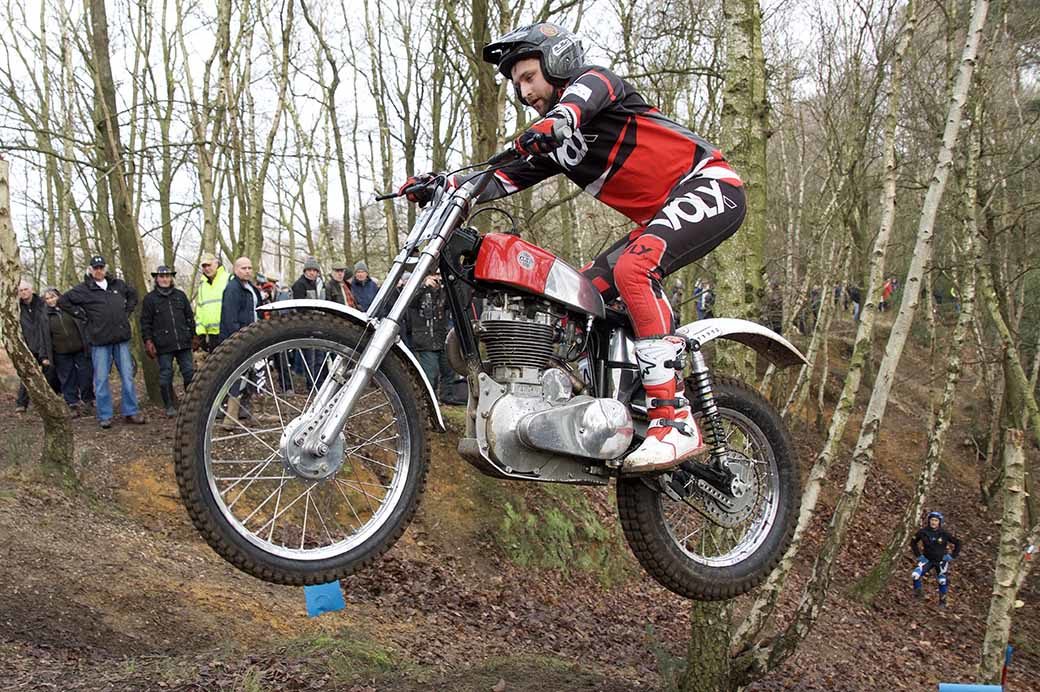 ======================================>
Yesterday we talked about Handlebars and how they have changed over the years, but footrests, have also gone through a huge transformation, the early bikes we rode, had just a narrow rigid bolt type  - laughable now when you look at the latest "Platform"  styles. -  Of course Bar to peg set up, is vital, in order for control and traction, but while the High bars of the past seemed good at the time,  the bikes of today, require a much lower bar. - Did you know that both Dougie Lampkin and Tony Bou, use a Renthal fat bar with only a 4.1/2 " rise?  - and Dougie is 6ft 3″.
======================================>
And Finally !!!