The picture of the sign that we posted yesterday, promoting Trials Bikes only, by the Puget Sound Club in the USA, has been shared  a number of times on Social media including Trial Mag: UK -  All good of course, but thought I would add that the FIM and other organizing  bodies, should also be promoting the fact that Trials is NOT an Xtreme sport.  - It's no wonder that so many people get the wrong idea of what the sport is all about.
The pic below is of a happy group of kids at an event in Wales - all about having fun.

Even this shot of Adam Raga, shows an event in the outdoors in natural terrain - the way it should be. (IMHO)

===============================================>
Toby Martyn (TRS) made it a double header when he  won again on Sunday in Devon.

Welsh lad Iwan Roberts (TRS) looking good on the rocks -.
And a great shot of Emma Bristow, who just lost out on the tie break for 3rd on Day #2 in Devon - What a brilliant looking section and a fantastic performance by the current Ladies World Champ.
Another great shot from the British Championship - Ben Hemmingway (Beta 4T) on a tricky but natural section.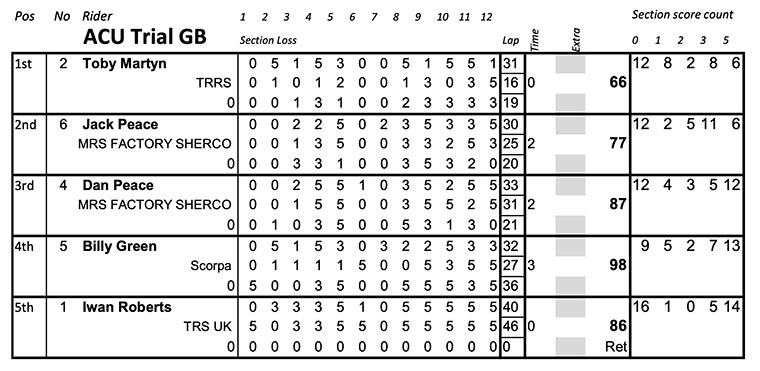 ============================================>
And a shot of our own Super Lady - Julie Lucas pictured with her Outlaw Beta a few years ago - just popped up on FB - memory.

Thia is a fantastic shot of Les Graham on the AJS   water cooled V4 Porcupine. - a brilliant rider who was killed when he crashed at the bottom of Bray Hill in the Isle of Man in 1953  - Les was on the new MV Augusta fitted with "Earles forks"  a design which was discontinued after this. ( no idea who took this brilliant photo)

============================================>
Another Scorcher of a Sunday was spent out early in the shop, before settling in front of the box to watch the Golf -nice to have the air conditioner on full blast - but sad that Babsy can't put up with this or fans due to a health issue. ( makes life difficult)
I must say the golf proved interesting, going to a play off which went for 8 holes before Harris English  took the win. I like the fact that Golf is similar to Trials, in as much as it's a "Head Game"
=======================================>
Glad to say I got to know both of these great "Lads" - Mick of course from my Yamaha days, and Helmut when I did a Cross Canada trip promoting Optimol ( now called Opti) - Helmut was kind enough to take both myself and the Interlube Rep> - across the line to the KTM Importer in Cleveland Ohio - It was neat to visit & meet some of the very good Cross Country riders who worked for the Company - We talked about supplying them with Optimol products for the KTM Team  ( Helmut is a dyed in the wool Optimol believer) -  It never did pan out as the KTM Factory took over things in North America, and actually cancelled their long time promoter Classen Motors, which I thought was a crap deal.  - Helmut continues to ride and is a great guy - ( I think he might be a year older than me) He has won numerous medals in the ISDE and is a real Guru on Euro bikes like Zundapps and Hercules. - He also Imported Ossa at one time. - Oh! yes - He ALWAYS promotes Opti 2 at 100-1 mix.

===========================================>